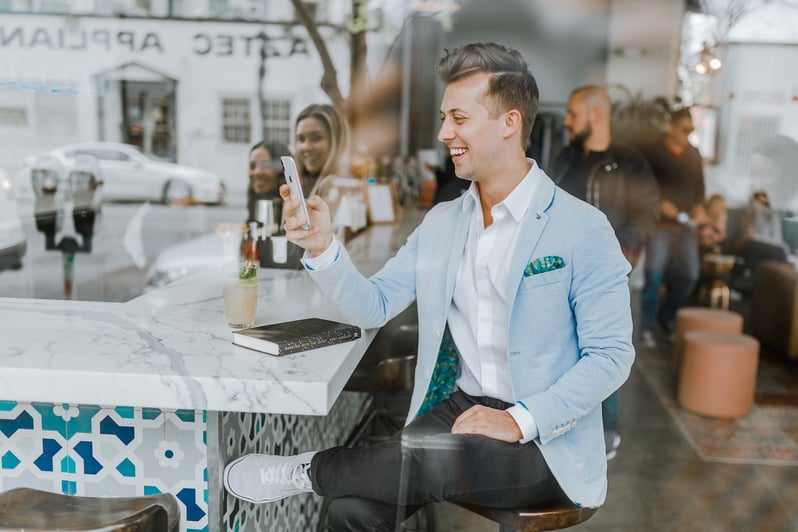 Client satisfaction is a crucial element to a company's growth and perennity. By having a good knowledge of customer experience, we are able to understand customer retention, their loyalty and their propensity to repeat their purchase.
With that said, the clientele's feedback allows us to measure their satisfaction. With these results, we can understand why a customer liked the brand and repeat the actions that made it a pleasant experience.
What is a satisfaction survey?
A satisfaction survey basically describes the questions that we ask a customer in order to obtain his feedback. We are then able to improve the company's services as well as its marketing strategy.
Indeed, a good marketing strategy is based primarily on the customer journey, and the best touchpoints, according to the clients. With this information, we can repeat the process to retain existing customers and attract new ones.
The importance of satisfaction surveys
Knowing the customer's feelings and thoughts about your products and services gives you useful information. Even if a survey must be well thought out in its design, your main role will be to analyze the data of the results. This step is critical to understand and define an adequate marketing strategy according to your type of clientele.
Different types of satisfaction surveys
The Net Promoter Score (NPS)

It is undoubtedly the most used indicator to measure the customer's appreciation for a brand or an offer. Created and popularized by Bain & Company, the NPS is a short survey that asks the following question:
"How likely are you to recommend brand X/product Y/service Z to your entourage?"
It's also really easy to use since customers simply have to respond by giving a score between 1 and 10.
The Customer Effort Score (CES)
As its name suggests, the Customer Effort Score measures the effort made by the customer to receive the desired product or service.
By asking these questions: "How much effort did you have to put into getting your request processed/purchasing our product/getting in touch with our customer service?", the company will be able to determine the post-purchase satisfaction of the customer, and thus define its marketing strategy regarding loyalty.

The Customer Satisfaction Score (CSAT score)

This indicator helps us determine the level of customer satisfaction after a purchase. By using a Likert scale, we offer an effective and simple way to share your opinion on the received service. The customer can easily scale his answer between "very satisfied", "moderately satisfied", and "not at all satisfied" by clicking the corresponding icon.
Tips and pitfalls to avoid
Good practices
Start with a global study of the brand
By knowing how our customers feel about broader aspects of the brand, we can make internal comparisons that will be useful when developing the marketing strategy.
Give customers the opportunity to justify the rating they just placed
Having the customers' justified opinions, whether positive or negative, allows the company to improve and make the necessary corrections. This makes us learn from our mistakes and avoid repeating them in the future.
Make sure the questionnaire is adapted
Not everyone will answer the questionnaire on a computer; some prefer to use their tablet or cell phone. It is therefore important to ensure that the survey is adapted to the client's preferred medium of communication, and that it's sent to the corresponding channel.
Customers are more receptive to satisfaction surveys on weekdays than on weekends. Likewise, it is best to contact them when they are more relaxed and calm, so either before or after work. Catching their attention at the right time can lead to more accurate results, which helps determine which clients are most likely to respond to the survey.
See the positive in the negative

Even if negative feedback can sometimes be hard to accept, they are crucial for improving your business processes and marketing strategy. Customers can sometimes highlight problematic situations that you wouldn't be able to find on your own. This encourages you to work more closely with your team to find a common solution and fix the problem.
Pitfalls to avoid
In order for the satisfaction survey to be effective, it needs to be simple for the customer to complete. That being said, one short, concise question with familiar vocabulary is enough. If clients begin to stumble over the terms of a question, there is little to no chance that they will complete the survey, when the goal is to collect as much data as possible.
Design plays an important role in a survey. If you offer a bland experience, the customer could lose interest, which would impact the results.
Many have the tendency to send out a survey right after a client's purchase. However, a delay of a few days is preferable. This gives the customer time to use the product or service and become familiar with it. We also avoid oppressing the customer directly after the purchase. With a tool like HubSpot, you can send out a survey automatically, leaving your hands free to do other things. Moreover, there is no need to harass them with tons of questionnaires; a single, well-conducted survey is sufficient.
Respect the client's privacy
Consumers nowadays are extremely concerned about the use of their personal data. That's why it is necessary to remain respectful if we want to use this information for the purpose of future marketing materials. Finally, survey tools that are misidentified or that come from an unreliable source can appear unsafe to participants and lead to a low response rate.
The different sending channels
By email
According to a study, 70% of post-purchase notice requests are made by email.
Email reviews allow you to measure the customer's loyalty and satisfaction levels, while identifying those who are likely to recommend your business to others.
By text
Did you know that 56% of online reviews are posted from mobile devices? This number is not surprising, since it is easy for customers to engage with brands by writing reviews directly from their phone or tablet.
The SMS opening rate is also the highest of all channels. Indeed, the percentage climbs to 98%, compared to 40% for emails.
In conclusion, the key to success when issuing an effective satisfaction survey is to have a good knowledge of your customers' profile. When sending the survey to the right channel at the right time, we ensure that we have a satisfactory participation rate.
However, its format should not be overlooked. A questionnaire that is too heavy or boring can alienate the customer and even influence the results, going against the purpose of the survey.
If you have any other questions regarding feedback surveys, contact Globalia's experts here.