Feel like you are running out of time and a day is not enough to complete all of your marketing responsibilities? Are your simple to-do lists eating up your precious time that you do not spend on your strategy?
You are not alone! According to recent digital marketing management research, email marketing automation is the third most used feature of marketers surveyed, just behind social media management and enterprise search management.
Furthermore, according to a survey by the Lenskold Group and the Pedowitz Group, nearly 60% of respondents who use automation systems in their online marketing strategy say they can direct more qualified leads to the sales department. In addition, these leads are even more qualified and require less effort to generate them.
Without a doubt, the rate of use of automation tools will continue to increase. So, it is no surprise that more and more companies are turning to these tools. In the face of such a profusion of offers, how do you compare the various options to choose the automation tool that best meets your needs? We will try to answer this question in this article. Let's go ahead and get the ball rolling now!
Marketing Automation Tools: What Use?
Marketing automation tools make it easy to connect to the various tools marketers prefer. Do not worry, if the connection is not provided for by the automation tool in place, Zapier or IFTT will most certainly allow you to make it. The possibilities of marketing automation are vast.
Content Automation
Whether it is automatically sending a new blog post by email, sending a thank you email to a new blog subscriber (with, of course, a call to action urging them to move forward, far in the funnel), the follow-up email to encourage the renewal of a service that is about to expire, the additional purchase or to leave a comment on your product/service, or the personalization of the email invitations to read content related to those just viewed by the user: The sky is the limit.
It is important to differentiate between the automations that are triggered following a particular visitor's action (ex: newsletter subscription) from those that are triggered following a particular behavior on the site (reading a blog post and triggering the sending of a related ticket by email). These more sophisticated triggers are made possible by cookies which record the content read by the visitor.
When a behavior trigger is activated (reading a particular post), the corresponding workflow determines the automatic action to be implemented (sending a related post by email). The combination of cookie and workflow opens up a huge field of possibilities, especially when applied to lead generation and their education/maturation to conversion.
Automation to Build Loyalty
But it does not end there: Automation can (and should) be used to build customer loyalty as well. It can also assist them in discovering a product/service that is complex at first glance and therefore underexploited. Once equipped, it is very likely that these customers will highly recommend your product/service.
Automation for Events
And that is not all! If you offer events as part of your business, using a specific date-centric workflow will free up valuable time. For example, it is possible to create reminder emails (before) and follow-up emails (after) for attendees as well as those absent (to tell them about the next event). This combination of cookies and workflows gives unique power to automation tools by ensuring that the right content is sent at the right time to the right recipient.
To that end, did you know that 73% of your site visitors are not in the conversion stage? So… What to do with these three quarters of your visitors?
Do not abandon them! Instead, build a relationship with them by supporting them on their customer journey until they decide to convert. This is done by sending emails adapted to their situation (consideration, decision…) and the impact will not fail to be felt on your performance indicators!
Marketing Automation, Platforms to Make your Life Easier
The automation process is more or less complex to set up depending on the tools used. Indeed, it works 24/7 for you and without errors (once properly adjusted). While a lot of automation processes apply to emailing, this is not exclusive: the marketing automation tool can also prioritize the most promising leads so that your sales team can focus their time and energy on which one pays off.
You can also define via workflows, which sent content will be sent to leads according to their stage in the conversion funnel. If you still were not convinced of the usefulness of marketing automation tools, I bet you are now. Let us move on to the selection criteria!
Comparison of Marketing Automation Tools on Budget
To help you in selecting your marketing automation tool, here is a list of the different tools, from the cheapest to the most expensive (per 1000 contacts).
1. Ontraport
First, with Ontraport, you have 1 single user, not including training. Its cost is US $79 per month.
2. ActiveCampaign
For its part, the ActiveCampaign allows for up to 3 users. The professional package includes training. The tool is listed at US $129 per month.
3. Infusionsoft
The Infusionsoft tool can contain up to 1500 contacts, with 1 single user. It also includes a Sales pipeline. Its price is US $151 per month. This is the same price for E-commerce features.
4. Hubspot
Hubspot allows you to have 1 single user and also offers online training. Its cost is US$800 per month.
5. Marketo
For less than 10,000 contacts, the platform is priced at US $895 per month.
6. Pardot
Pardot allows you to have up to 10,000 contacts. Its cost is US $1000 per month.
Choose the Marketing Tool According to its Ease of Use
The complexity of using the tool is definitely a factor to take into account. The easier the tool is to use, the faster its adoption by its users. Choose your battles! Here are the marketing automation tools, from easy to less easy.
1. Hubspot
This tool is very intuitive and quick to learn. This is the perfect choice to start with focusing on the essentials!
2. ActiveCampaign
Very easy to use, the ActiveCampaign tool is an advantage for setting up complex workflows.
3. Ontraport
Relatively easy to access, this scalable tool is suitable for small businesses as well as very large.
4. Marketo
With Marketo, the learning curve is steep, but the tool is still very comprehensive.
5. Pardot
Again, the learning curve is particularly steep since many features are difficult to understand.
6. Infusionsoft
The existence of the #confusionsoft hashtag speaks volumes. If A/B testing is your daily routine, you might want to shift your attention to another tool.
Which Marketing Automation Tool is Right for You?
1. You are a Business with a Turnover of up to $5 Million per Year.
Choose Hubspot or Active Campaign.
2. Your Business Has a Turnover of Over US $5 Million per Year.
If this is your case, the ActiveCampaign or Infusionsoft platforms are all indicated.
3. Your Business Has Multiple Offices and Sales Teams.
In this case, it is better to go with Pardot or Marketo. Being cloud based, these tools make it easy to follow the growth of your needs.
4. You Have an E-commerce Site.
If you have an e-commerce site, the Hubspot and Infusionsoft platforms are preferred!
Which Features are Essential to You?
Most of the tools include a CRM with a built-in lead scoring functionality that allows you to prioritize the most promising prospects. However, they can also integrate with your existing CRM.
All the tools offer email campaign automation features, but some are more advanced than others and offer A/B testing, for example, allowing you to create the perfect newsletter (especially ActiveCampaign).
Interested in the possibility of setting up landing pages or webinars? Most marketing automation tools provide these possibilities, but some are easier to learn than others. Hubspot makes it (very) easy.
If your site is e-commerce, be aware that certain tools (Infusionsoft and Ontraport in particular) can serve as a database for your products. They also offer opportunities for discounts or affiliate programs.
In terms of social media, marketing automation tools allow you to publish your new post on multiple social networks at the same time automatically. Some also allow you to manage your advertisements on these social networks: all your marketing tools are then in the same place and perfectly interconnected.
If tracking the customer journey on your site keeps you busy all day, you will love its full visualization in Ontraport. This marketing analysis tool also allows you to see the results of past efforts and the expected results of future campaigns.
Do you need a CRM to take your inbound strategy to the next level? The one offered by Hubspot is free. This tool offers the full range of essential tools: landing page, SEO optimized blog post, email campaigns ... The presentation of visitor interactions on the site in the form of an intuitive timeline is particularly appreciated.
Finally, if you are self-taught and are looking for a large knowledge base on which to base the discovery of your marketing automation tool, think Marketo. If you are in the healthcare, finance or media sector, the custom solutions of this tool will most likely interest you!
Before signing, validate these 2 important checks
Confirm compatibility with your existing CRM, especially if your choice is Infusionsoft.
Have a long-term vision, of 3 to 5 years, for the number of contacts that your marketing automation tool will have to manage. After all, the prices according to the number of contacts are increasing rapidly!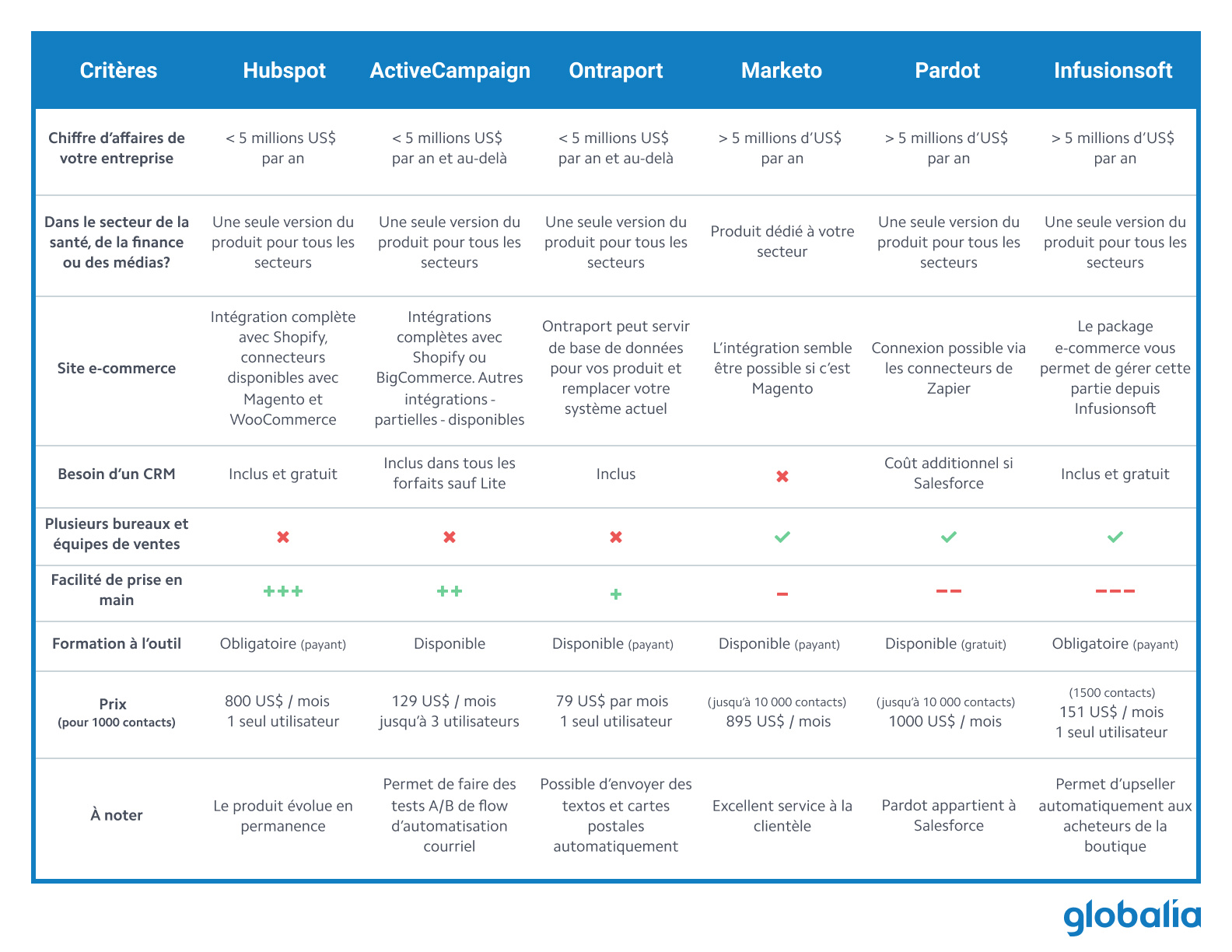 Globalia - Comparison Between the Main Marketing Automation Tools
Download a printable version of this table
In closing, I hope this blog post has helped you in selecting the right marketing automation tool for your needs. Setting up a tool requires a considerable investment of time and money. In this sense, take the time to think about your situation in the long term! In the end, if your choice is Hubspot, but you don't feel comfortable embarking on the adventure on your own, do not hesitate to call on one of our inbound experts.