001 - Hero Case Study Post
globalia
+

D‑BOX
D-BOX Technologies:
Moving the world through haptic technology and a new website on HubSpot's CMS
012 - DBox - Banner Text Image
105 - RH - Motivations Listing
Challenges and Solutions

Finding a CMS capable of achieving D-BOX's goals
The new website was developed entirely with HubSpot's CMS, offering the flexibility D-BOX was looking for while providing a personalized and secure user experience. This was crucial for D-BOX, as their past websites were hosted on Wordpress and other custom CMS'.

Creating and redesigning the user experience (UX)
Marie-Claude (D-BOX) and Phillippe (Globalia), two experienced designers, teamed up to create mock-ups for the redesign. Despite a relatively new brand image, the two realized that it was not ideal to support the desired positioning of the company, and worked to adjust it.
Having participated in the UI, it was obvious that Philippe would also organize the UX, improving the efficiency and navigation of the site to increase conversions and obtain leads.
"I had the chance to be coached by a senior UX/UI designer from Globalia during the website redesign project. This experience was very enriching and I acquired new skills, allowing me to further grow professionally."

Marie-Claude Parenteau,
Graphic Designer at D-BOX Technologies

Autonomy in managing content
To take full advantage of HubSpot's advanced features, a responsive website was created with 55 modules, including animated ones. This allowed D-BOX's team to be autonomous while creating or modifying content pages without compromising the quality of visuals.

Targeting different audiences
With D-BOX being present in 6 industries, Globalia proposed a review of how they structure content and navigation menu. Today, all sectors have their place on the home page, and each has an adapted content structure, which represent more than 600 pages.

Creating an SEO-friendly website
Globalia was able to use all the SEO features offered by HubSpot to carefully transfer over D-BOX's existing content to improve their ranking on Google. Over 600 pages of content was redesigned in accordance with the best SEO practices and as a result, in the following year, D-BOX saw an increase of 188% in its organic web visits.
Website redesign with HubSpot CMS
Globalia's development team built the entire website and blog in alignment with the brand's image using a drag and drop interface which gives D-BOX the freedom to seamlessly create or modify content.
The website is fully responsive and has gone through quality assurance.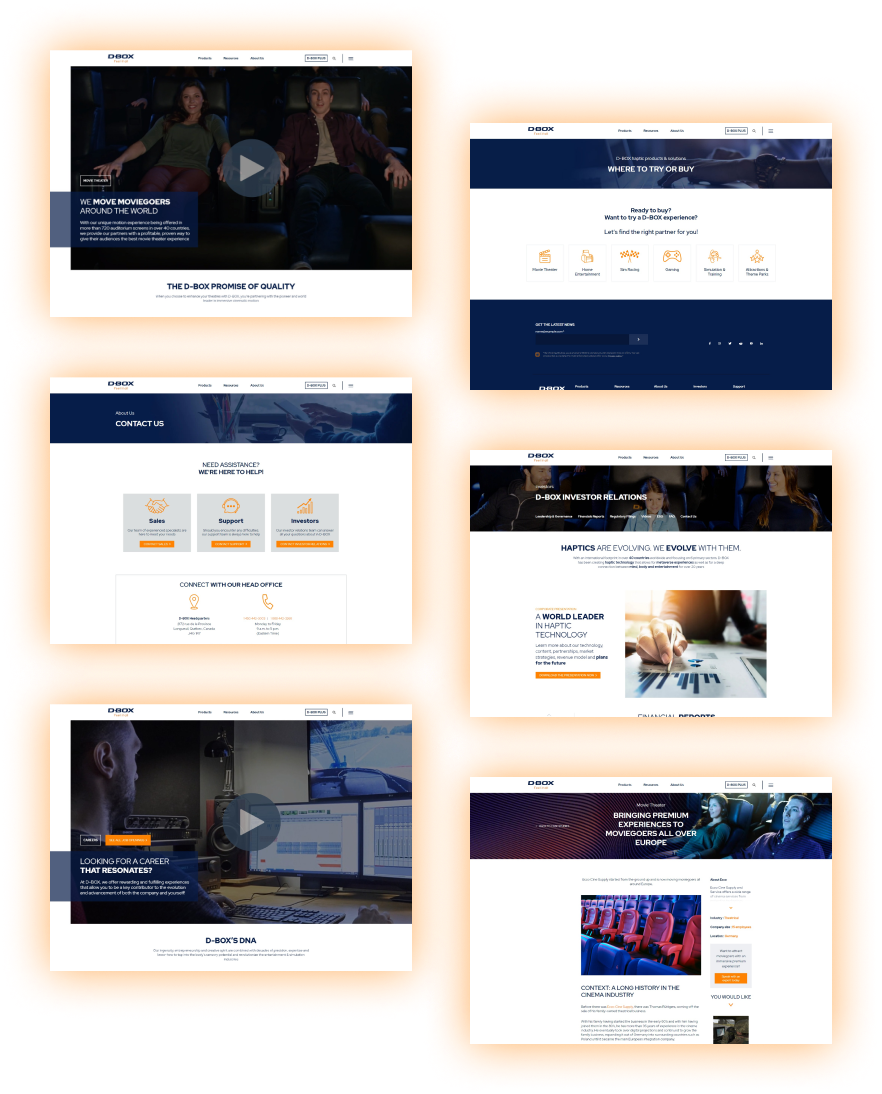 Intuitive Dashboard
D-BOX now uses HubSpot's dashboard functionality to track results of initiatives such as contests. These dashboards allow them to make informed decisions going forward.
Smart Content features
D-BOX is currently working on the creation of its personas and their buyer's journey. They then plan on using the Smart Content features to personalize their various web pages.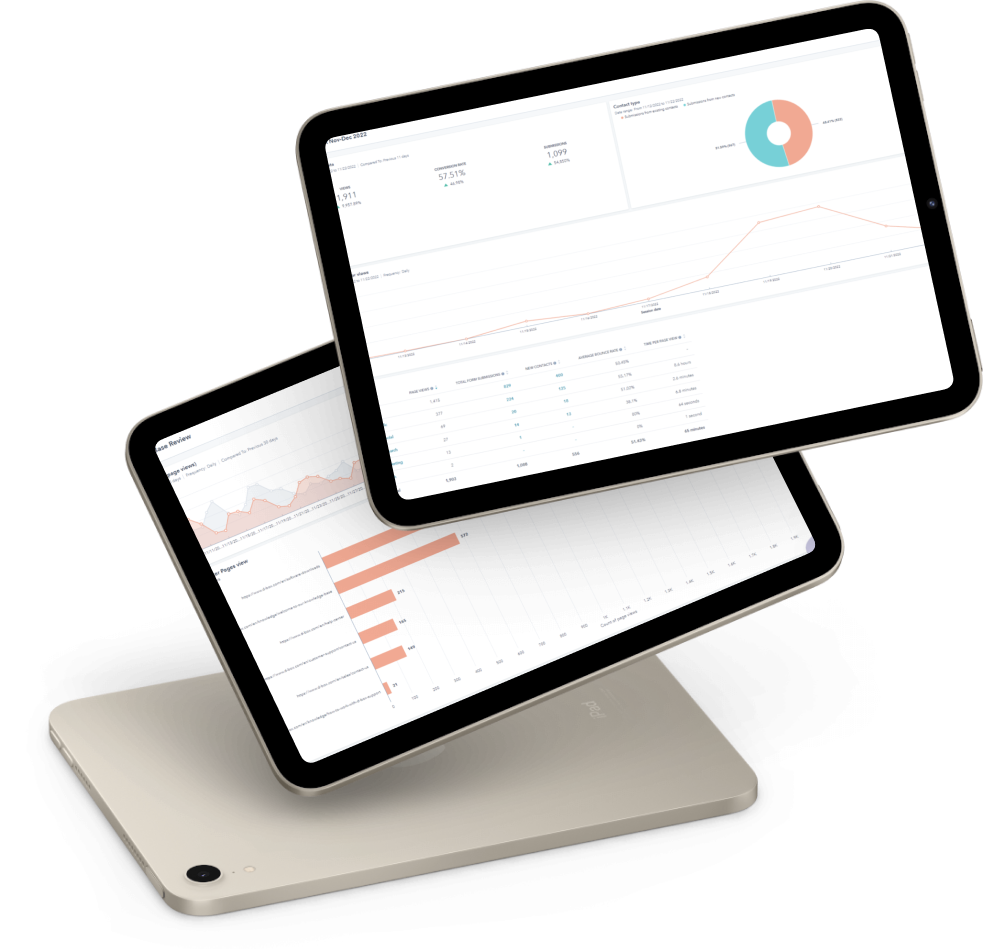 Built-in SEO tools
Thanks to the tools offered by HubSpot, the D-BOX team has reviewed the meta descriptions and alt texts of all its pages and images. Every 6 months, D-BOX conducts an audit using HubSpot's SEO tools and adjusts their content based on its recommendations.
They also used these tools to track web traffic from their organic SEO efforts and to build an anchor page around the word "haptic" which now ranks second in Google's SERP for the term, right under Wikipedia.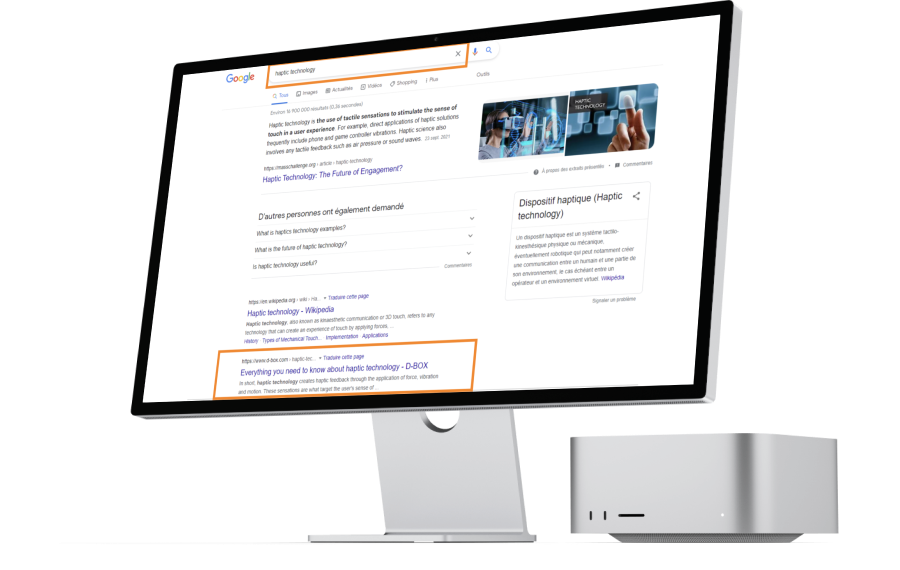 012 - DBox - Banner Text Image
New section for investors
As a publicly traded company on the TSX (DBO), it is crucial that D-BOX provides its current and potential investors with the relevant information. This critical section is powered by HubSpot.
New Help Center leading to a Knowledge Base
To help clients troubleshoot by themselves, a Knowledge Center was created with the Service Hub, including an introduction page to the help center that acts as a centralization tool.
Multilingual content
D-BOX's target audience is 95% international, making it essential that their website be in English. However, since D-BOX is based in Quebec, the company must also respect local laws by having a French version. The multilingual HubSpot content creation feature made this process simple, saving the team
precious time.
Testimonial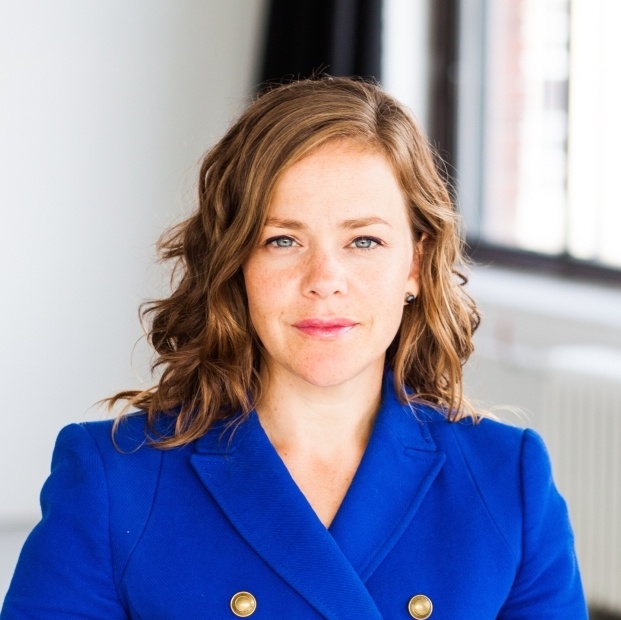 We managed to deliver a brand-new website in 4 months, while respecting tight deadlines, budget, and having fun! In my 20 years of digital marketing experience, I've never met a team as dedicated, creative, professional and results driven as the Globalia team. They know HubSpot inside and out, making any redesign project smooth sailing!
Digital Marketing Director at D-BOX Technologies
Close
10 - Prefooter CTA Banner