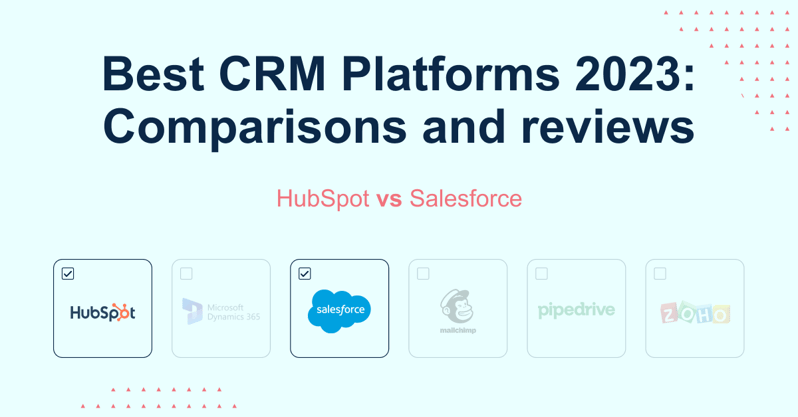 Your customer relationship management (CRM) tool is at the heart of your sales process! It helps you manage it, but how can you make the right choice for your business needs?
Your CRM must allow you to organize your contact database, improve your team's productivity, help your management team make informed decisions, but also adapt to your company's growth. In this article, our experts share a comparative analysis and their opinion on the differences between HubSpot and Salesforce.
General features
When it comes to customer relationship management tools, HubSpot and Salesforce are without a doubt two of the most popular and robust platforms available. These tools are trusted by companies of all sizes to effectively manage contacts, automate marketing campaigns, and drive sales. Despite their similarities in performance and reliability, each platform has its own set of features and strengths.
HubSpot is known for its ease of use for both administrators and users (Sales, Marketing, Service, Operations). The user interface is intuitive, its drag and drop system makes it easy to customize the customer experience, and its ease of installation and administration allows users to be autonomous in this process.
HubSpot also includes all the tools necessary to accelerate and automate repetitive tasks:
Email templates,

Automated sequences for communications,

Automatic appointment scheduling and

Interaction tracking
Its major advantage is that the HubSpot platform is a tool that is accessible to the entire internal team and therefore offers autonomy of use, without having to resort to external consultants or create a position dedicated to its administration.
Salesforce, on the other hand, has user, installation and administration processes that are less intuitive than HubSpot and quite complex, which slows down the process of learning. Unlike HubSpot, Salesforce requires that the implementation, administration and maintenance of the platform be entrusted to external consultants or that a full time position be created internally to take care of it, since it requires a nested expertise. All things considered, complexity means multiple functionalities, so users can be sure that they will be able to set up their customer data and offer them complete and personalized experiences.
Both platforms provide data import/export tools, while ensuring data security and respecting the legal constraints associated with their processes. They have excellent API integration, which allows data to be connected to various applications, very good test environments and very nice document and content management. However, integrated project management remains a feature where HubSpot and Salesforce have room for improvement.
Sales Automation
Sales automation can help the business evolve like never before, while automating key processes, streamlining communications and maximizing efficiency across all departments.
HubSpot
HubSpot is an all-in-one platform that allows sales teams to manage their entire sales process, from prospecting to closing, offering tools that allow workflows to be customized to exact needs. From updating customer records to easily automating routine tasks, HubSpot gives the power to ensure things get done right and quickly. They offer accessibility to excellent contact management, account/company management and opportunity and also project portfolio management enables efficiency in the CRM platform.
HubSpot's CRM, along with the Marketing Hub, Sales Hub, Service Hub, and CMS Hub were all designed from the ground up to be integrated with each other, ensuring a unified and consistent user experience that relies on tools, data, and reports that work synergistically, as well as integrating seamlessly with Outlook and Gmail.
Salesforce
Salesforce's sales automation features, on the other hand, are more extensive and sophisticated, offering a wide range of advanced tools for lead and opportunity management as well as forecasting. The platform also integrates easily with Outlook and Gmail and provides excellent account and company management. However, the sales automation features and contact management could be improved. In addition to offering very good sales forecasting tools combined with very good opportunity and pipeline management, Salesforce offers a real-time sales pipeline. However, Salesforce's interface can be more complex and difficult to navigate than HubSpot's.
Marketing Automation
Marketing automation is an essential tool for businesses looking to reach more customers with less effort. HubSpot and Salesforce's capabilities are quite similar in this aspect and both platforms offer effective features in campaign, ad and social media management.
HubSpot offers a full suite of marketing automation tools, including automated workflows, highly targeted segmentation and detailed analytics. It's also possible to personalize emails with dynamic content, A/B testing, analyze lead capture and lead qualification.
As for Salesforce, the platform also has an impressive suite of features, such as A/B testing to optimize campaigns and integrated CRM data for personalized messages. It also integrates with other Salesforce products, making it easy to track leads throughout the sales funnel and see how qualified they are. Salesforce's marketing automation features are more advanced and customizable than HubSpot's, however, but setting up and managing them can be more complex.
Customer Support
HubSpot offers customer support to ensure that customers will be able to quickly find personalized help when they need it. Their knowledge base is full of helpful articles and videos that can provide answers quickly. In addition, the live chat feature allows for direct interaction with customers, giving them quick and personalized help.
Salesforce also provides good customer support with its integrated system and self-service portal. Its intuitive features make it easy to find information and get answers quickly. Customers can access frequently asked questions as well as informative videos. They have dedicated support teams available at all times to help customers with everything, from technical issues to tool configuration.
Finally, while both solutions have excellent case management with analytical support that is well done, there is room for improvement in ticket escalation within the platform.
What to remember
HubSpot is a great choice for small and medium-sized businesses that need an affordable but complete and easy to use CRM solution. As for Salesforce, it's a highly customizable platform offering a wide range of advanced features that is better suited for larger companies who have more complex CRM needs requiring a scalable and customizable solution. Ultimately, the choice between these two CRMs depends on the size and specific needs of the company.