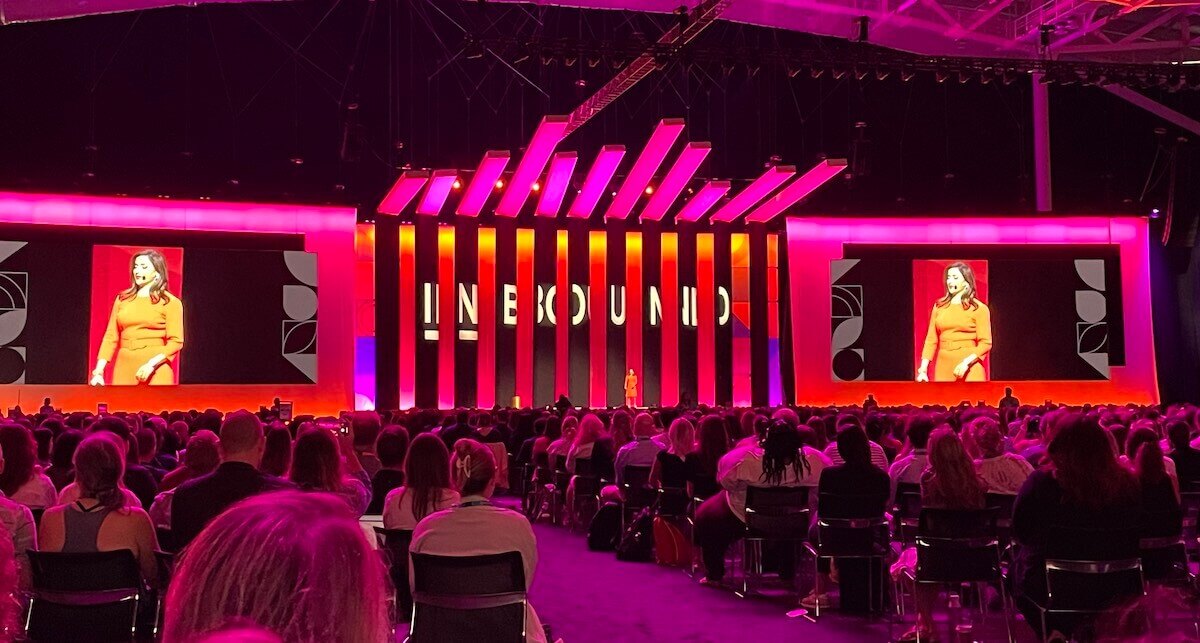 Bookmark this article and use it as a reference to help you master the new features. Videos tutorials made by our experts will be added soon.

The long-awaited moment by the vast HubSpot community has finally arrived! With great anticipation, the Globalia team, present at INBOUND 2023 in Boston, witnessed the unveiling of new features and improvements to HubSpot's tools during the conference on September 6, 2023.

At the popular INBOUND event, Yamini Rangan, CEO of HubSpot, Andy Pitre, EVP of Product at HubSpot, and Dharmesh Shah, Co-Founder and CTO of HubSpot, hosted the "HubSpot Spotlight" conference and announced the significant updates to the platform. Here is our summary of the HubSpot updates and improvements.


INBOUND 2023: Connecting in the Era of Artificial Intelligence

This year, the central theme of the event is connecting in the era of artificial intelligence. This sets the direction for the technological innovations announced during this conference.

Artificial intelligence (AI) will be at the heart of discussions, focusing on its impact on how people work, make purchases, and decisions. Do the concepts of connection and AI seem opposite to each other? When it comes to businesses, HubSpot explains how we can leverage this technology to better understand our customers and communities, their needs, and motivations, in order to create a more personalized and empathetic experience. It's precisely at this moment that the concept of "connection" takes on its full meaning!
HubSpot: An AI-Powered Smart CRM
The first significant element mentioned during the presentation: "HubSpot Smart CRM"! For a while now, we've been seeing AI tools being incorporated here and there in the platform, but HubSpot is diving headfirst into this technology to provide us with an AI-powered CRM. As you will discover later in this article, several of the announced updates are closely related to this technology and will assist us in content creation and generating recommendations on numerous occasions.
HubSpot Updates and Improvements

The conference presenters took turns sharing the updates and improvements to the platform, and here are some that caught our attention! Please note that access to certain elements depends on the type of package your company has selected. For all the details and to confirm the updates available in your account, don't hesitate to contact us!
Revamped Sales Hub

Prospecting Workspace

✔ Efficiently prospect new clients with the dedicated prospecting workspace for the sales team in HubSpot. A great new development that we will certainly have the opportunity to talk to you about! This space enables each representative to organize their day, stay focused on their daily tasks, identify new urgent tasks, and align them with their overall goals, all without the need to switch between different applications.
Prospect Qualification from Forms
✔ Create conditional redirect rules within HubSpot forms to automatically qualify and route your prospects to the appropriate representative. Depending on the responses provided in the form, the contact's path will be more personalized.
New Prospect Reports
✔ Discover how representatives are interacting with prospects and why they convert with the Prospect Contact Rate Report.
✔ See how different sources and channels generate leads with the Lead Source Report.
✔ Analyze the performance of various activities carried out by sales teams using the Lead Activity Report.
New Features for Sequences
✔ Conduct A/B tests within sequences to quickly make the right decisions and optimize prospecting efforts.
✔ Dive deeper into sequence performance with a detailed report on the different stages of a sequence.
✔ Enhance your reporting and analysis with new metrics: "Transaction Rate," which is the percentage of contacts enrolled in the sequence that resulted in a transaction, and "Total Revenue," the amount of revenue influenced by the sequence.
✔ Enroll your contacts in sequences directly from your mobile device!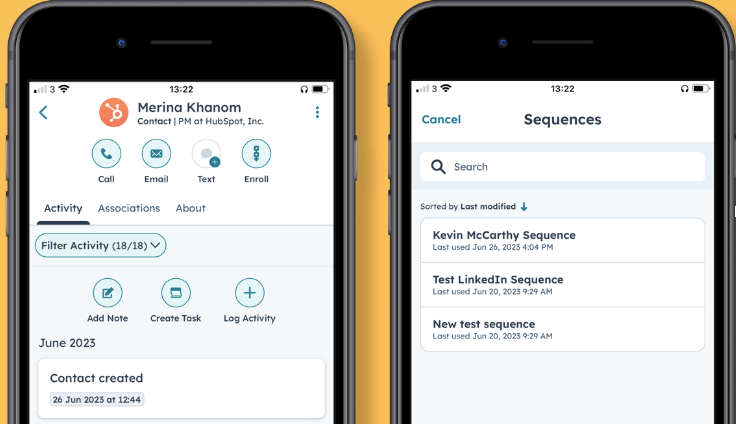 HubSpot Integration for... Salesforce!
✔ Forge strong connections with your prospects and customers, regardless of the CRM used by your sales team: the integration enhances the seamless interaction between both tools, saving valuable time for users.
Better Revenue Forecasting
✔ Explore how your revenue trends align with your sales goals using the new available analytics data. Forecast and pipeline tracking will be more streamlined.
✔ Seek AI insights on the accuracy of your revenue forecast view. Based on past data and trends, you can leverage its analysis to make quicker adjustments.


Labels for Transactions
✔ Create labels for your transactions to help your sales team easily identify where to focus their efforts at a glance.


Additions to Conversation Guides
✔ Benefit from tool recommendations regarding the best conversation guide ("playbook") to use, based on properties of the relevant contact.
✔ Now use text snippets ("snippets") in the notes area.
Team Training
✔ Accelerate your team's training by using a series of lists containing the best call recordings. Integrating your new representatives will be faster!
A More Personalized CRM
More Efficient Records
✔ Enhance efficiency by customizing the view of records in HubSpot based on teams. This allows you to select and filter the information for reports, associations, and pipeline tracking displayed in the record.
✔ Also, personalize the central area of record, the activity section, to align with your company's needs.
HubSpot's AI Assistant to Support Yoy
Artificial Intelligence + Marketing = 🙌
HubSpot is launching the "Campaign Assistant" to support you in your marketing efforts! Answer a few questions, and your new best friend will help you create all your campaign variations (landing pages, ads, social media posts, etc.) and save you incredible time."
✔ Boost your efficiency with AI when crafting your marketing emails. AI will review your final email content and even suggest text ideas for the email subject!
✔ Now, generate your social media and paid advertising content (Facebook and LinkedIn) with AI directly within the content creation tool in HubSpot.
✔ Enhance your content with beautiful images suggested by artificial intelligence. Spend less time searching for images: we love that!
✔ Benefit from AI-generated content ideas for your blog. Say goodbye to writer's block! Just provide a general description of the topic you're interested in, and you'll receive more targeted ideas that your audience may find interesting. Plus, AI will assist you when it comes to the writing stage!
Website and Landing Page Creation
✔ Build your website with AI using the "AI Website Builder": HubSpot will ask you a few questions to propose a page structure for your website and assist you with content creation. Currently available in English only.
✔ Build your landing page in a few clicks with the Campaign Assistant: answer a few questions, and your page will be ready to go live!
✔ Let AI generate your title and meta description in seconds to optimize your SEO.
AI Present in the Inbox to Support Your Service Team.
✔ Boost efficiency by letting AI summarize email exchanges in your inbox. This feature allows any inbox user to quickly get the conversation context without reading every message!
✔ Respond to inbox messages with AI-generated suggestions.


Reports Generated by the Tool
✔ Create your reports faster by telling AI in writing what you want to monitor, and your report will generate almost magically!
The Arrival of Hub Commerce
Tools Now Unified
✔ Find all your commerce tools under one roof: payments, quotes, invoicing, products, and more.
Stripe Payments
✔ Enjoy the new Stripe payment process - currently available only in U.S. customer accounts. With this Stripe integration in the Commerce hub, you can seamlessly and quickly collect money from customer profiles in HubSpot using your existing Stripe ID.
Invoices
✔ Generate invoices quickly from your HubSpot records (contacts, companies, transactions, quotes) - accessible to merchants using HubSpot Payments, currently in the U.S. only.
Mobile Message Optimization
Please note: "SMS" is currently available only in the United States, while "WhatsApp" is accessible worldwide.
Personalize Your Messages
✔ Send personalized messages effortlessly with centralized data, thanks to the more intuitive tool than ever. Personalization tokens are finally available!
Consent Management
✔ Manually add, modify, or remove consent records from your contact list, ensuring compliance and data integrity.
✔ Streamline your administrative workload through automated consent management.
Workflows
✔ Create custom automations that respond to contact actions and properties, ensuring your messages reach the right people at the right time, with the right message! Beta version available.
INBOUND 2023: AI-Focused Innovations
In conclusion, the "HubSpot Spotlight" conference at INBOUND 2023 in Boston featured major announcements with a focus on artificial intelligence. The "HubSpot Smart CRM," powered by artificial intelligence, is a significant innovation that promises to enhance understanding of customers and communities for a more personalized and empathetic experience.
Our team on-site at the INBOUND 2023 event will keep you informed about other discoveries throughout the week. Our schedules are packed, and we will be attending numerous conferences. So, stay tuned by following our social media channels, and if you'd like to discuss these innovations with our HubSpot experts, please contact us!