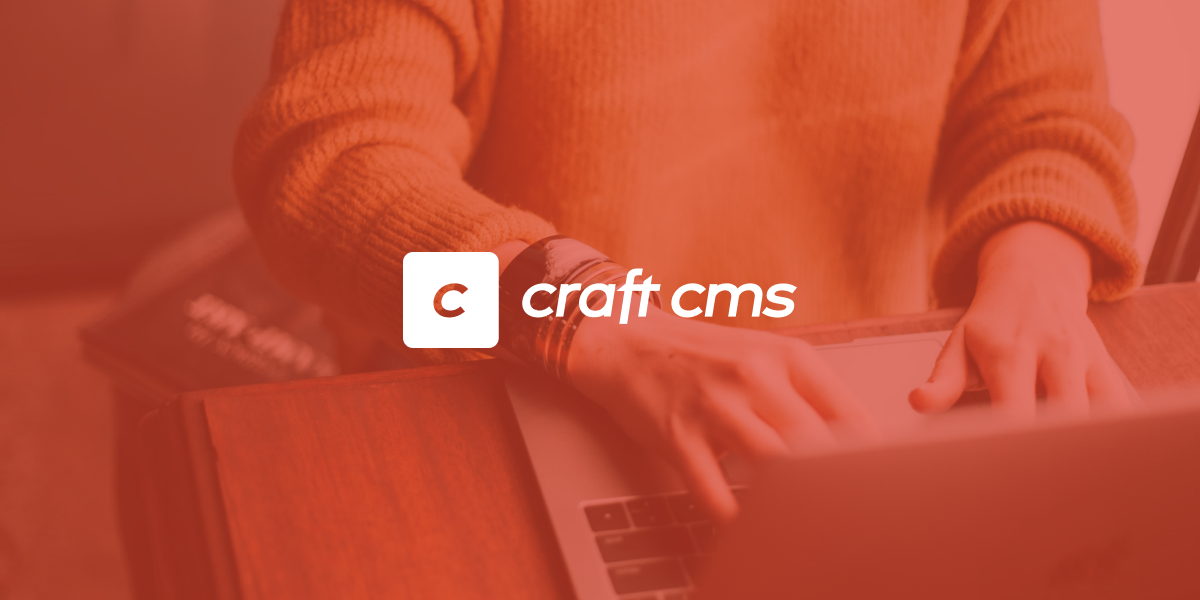 Craft CMS is a content management system. CMS is the acronym for "Content Management System". It is clear and simple to use. It provides all the necessary mechanisms to carry out the daily tasks required for an efficient website.
Content integration will be hassle-free, guaranteed.
Craft CMS is maintained by a community of experts and doesn't require the installation of dozens of plugins. It provides a high level of security and the current development takes the realities of today into account. It is updated almost weekly with the help of an active community that create and maintain quality plugins. Solidly established since 2008, Craft CMS is developed using the Yii2 framework.
What is a CMS?
A Content Management System (CMS) is the code developed which allows the capture, entry, and edition of content and data visible to the visitors of the website in question. In other words, it makes the webmaster's life much easier by supporting them in their daily operations. Generally, CMSs offer Draft content capture, saving of Version history, Content Authoring mechanisms, etc.
What is a Framework?
More often than not, a Content Management System (CMS) is built using a framework. One of the biggest advantages of building a CMS on a framework - like Craft CMS -is the implementation of the right practices while respecting the development methodology it imposes. This significantly helps to minimize maintenance costs, as the methodology is already known and documented. This being said, the majority of the frameworks used by the common CMSs have been established for a long time and are supported by very large communities that define and shape them. They therefore also benefit from frequent code and security revisions.
More specifically, a framework is a collection of universal and reusable functionalities that support the development of applications in a specific field. The objective of a framework is to provide a solid base where all the developers can easily find what they need. The person responsible for development uses the framework's structure to spread their functionalities while remaining supported and controlled. In short, it significantly improves efficiency and productivity while reducing maintenance and construction costs.
«In the same way as building a house, the CMS can be built solidly over a stable and robust foundation: the framework. »
Why you Should Choose Craft CMS
Craft CMS isn't a system that was built on a whim. Its conception aims to make it versatile for website development (web or application) for medium to large enterprises, or for those who have substantial levels of visitor traffic. It is also easily adaptable to be used as a data source and/ or adapts well to your application needs if required. This flexibility is greatly appreciated by designers, developers, and users alike. It is largely due to the Yii2 framework that it holds a position of choice in the CMS world.
If you need a website with a robust, user-friendly management system, or if your needs require a more advanced development, Craft CMS will serve you well. It can easily be adapted to become an e-commerce platform, interact with other systems, or simply become a source of data without necessarily being attached to a website (Headless CMS). It is extremely versatile and flexible, which helps to ensure its perennity. Based on a reputed framework, well-developed and maintained, it will give you more than you are paying for.
Advantages of Craft CMS
It is an excellent content creation environment that includes the revision functionality.
Multi-site option.
It contains all the functionalities required for translation in order to be multilingual. Perfect for localization!
It can be used as a simple API or in Headless CMS mode.
Thanks to a plugin specially developed my Craft, Craft CMS can become an e-commerce platform.
It can be developed with caching.
Working with versatile and personalized forms, whatever your needs may be, with the help of a powerful form creation plugin.
All of your personalized fields are managed centrally.
And much, much more!
Don't hesitate to contact our team to find out more about Craft CMS. As a Craft CMS Verified Partner, we will be happy to advise you!