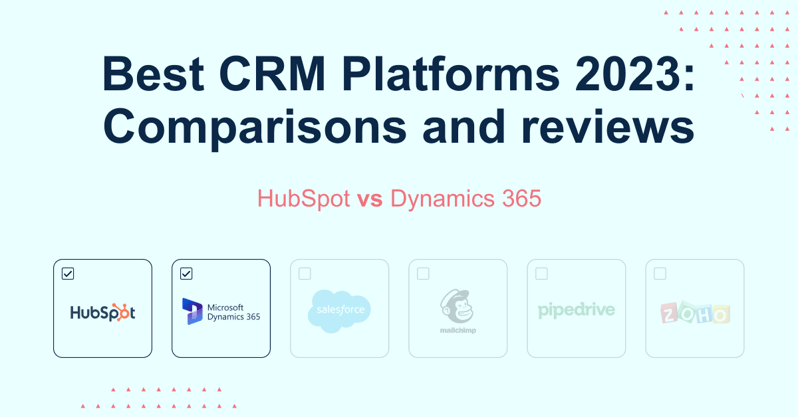 Choosing the right customer relationship management (CRM) software for your business can be a daunting

,

but important task.
With so many options available on the market, it can be difficult to determine which one will best meet your specific needs and be beneficial in the long run. Two popular CRM solutions are often compared: HubSpot and Dynamics 365.
Our experts have done the exercise for you and examined, then compared, the generic features as well as the sales, marketing and customer support functionality of each of these two CRMs.
General features
HubSpot focuses on ease of use for both administrators and users (Sales, Marketing, Service, Operations). Its user interface is intuitive and the drag and drop system makes it easy to customize the customer experience. HubSpot's ease of installation and administration allows users to be autonomous in the process, as well as providing access to excellent quality support and ensures data security and compliance with legal constraints.
As for Dynamics 365, it is aimed at medium and large companies that are looking for flexibility in functionality, and simplicity. Indeed, the platform is easy to use and to administer, which allows users to be autonomous in their navigation. In addition, the solution offers an excellent customization tool for testing, document and content management. Dynamics 365 provides comprehensive and highly customizable reports. However, mastering and implementing these customization features takes time. For example, when it comes to ease of configuration, HubSpot was ranked higher than Dynamics 365. Yet, once Dynamics is mastered, it is possible to create powerful, custom tools to optimize sales processes.
HubSpot and Dynamics 365 software contain powerful tools for sales team development. Indeed, access to excellent integrated project management will ensure good performance and reliability throughout the sales funnel. Furthermore, these tools are equipped with API integration, and data security is at the heart of their priorities, and they respect the legal constraints in force.
Sales Automation
HubSpot
HubSpot stands out in the market with its excellent management of contacts, opportunities and project portfolio. The solution also offers accurate sales forecasting tools, providing excellent real-time pipeline management. Its sales automation features are powerful and HubSpot offers full integration with Outlook and Gmail, as well as providing sophisticated sales reports. Access to task and activity management is very easy and is supported by a detailed tracking tool.
Dynamics 365
For Dynamics 365, contact management is fine, but not as outstanding as HubSpot. The solution offers excellent sales forecasting tools, sales reports and an activity tracking service. The management of quotes, orders, real-time pipeline and customer contracts is, as with HubSpot, very effective. Integration with Outlook and Gmail is feasible, and Dynamics 365 stands out in particular for its customization options that allow companies to tailor the software to their specific needs.
Marketing Automation
HubSpot helps companies maximize their ROI by offering automated workflows, highly targeted segmentation and detailed analysis. It is also possible to personalize emails with dynamic content, perform A/B testing, analyze lead capture and qualification. In addition, the campaign management, advertising and social media tools are very easy to use and enjoyable, mainly because of the customizable content of the platform.
Dynamics 365 offers a very good email marketing service, as well as good advertising and social media management. However, the platform is not on par with HubSpot for campaign management, lead management and marketing automation. Nevertheless, the platform has excellent content personalization functionality and offers conversational marketing tools. The platform also allows for limited A/B testing and basic marketing ROI analysis.
The strength of HubSpot is definitely all the marketing features that come with it. HubSpot will be the best choice if you are looking for an all-in-one CRM with an impressive suite of marketing tools.
Customer Support
HubSpot
HubSpot is known for its highly personalized customer service. When a user has an issue or question, they can get help via different communication channels: live chat, phone or email. This one-on-one approach builds trust and loyalty with customers, creating long-lasting relationships. Excellent case management, an optimized customer support portal and detailed analytical support allow for round-the-clock assistance.
HubSpot offers several more advanced features and customizations, in fact, the solution has the merit of offering a wide range of support options, including the online HubSpot Academy, where questions can be answered and customers redirected to.
Dynamics 365
Dynamics 365 also offers very satisfying case management features, however, its customer support portal and analytics support is a bit more minimalist. It provides access to a rich knowledge base for creating and sharing knowledge articles and FAQs with customers. Ticket escalation is a weakness for both solutions, but this does not prevent them from offering a support chatbot to answer customer questions and needs.
What to remember
Both HubSpot CRM and Dynamics 365 CRM provide extensive automation, marketing, sales, and customer support features. HubSpot CRM offers a user-friendly, easy-to-use interface and affordable pricing, making it a great choice for mid-sized businesses that want a comprehensive, high-performance CRM solution. In comparison, Dynamics 365 CRM offers similar functionality, as well as ERP capabilities for financial management and project management. It is a more robust solution that is suitable for larger companies with complex needs that require more connections in internal tools.