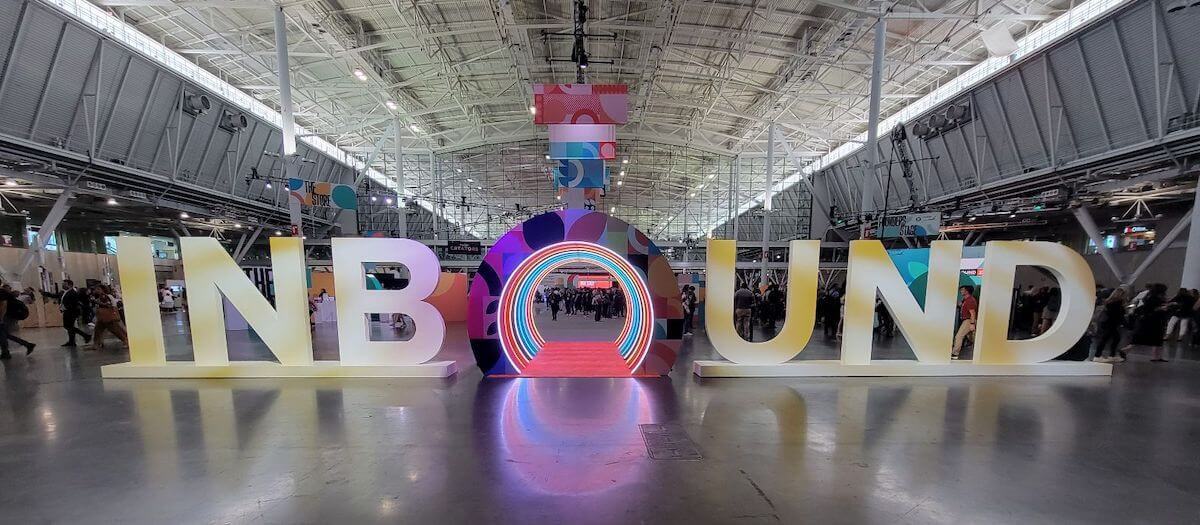 What is HubSpot's INBOUND event?

INBOUND is a not-to-be-missed event for all HubSpot enthusiasts. Here, once a year, professionals from marketing, sales, customer service and those who want to help businesses grow come together to exchange knowledge, experience and innovative ideas.
Since 2012, over 20,000 users and partners from 110 countries have gathered annually in Boston for three days of INBOUND. Days packed with advanced workshops, networking opportunities, discoveries about new technology trends and talks by renowned speakers who share their experience and knowledge.
INBOUND 2023: another year of discoveries

The INBOUND 2023 agenda in early September will be no exception. Numerous marketing and sales professionals will be there to soak up the innovative and creative HubSpot culture and assimilate all this knowledge. In turn, they will be able to support companies wishing to adopt HubSpot, or already using it, in their development and evolution.

Topics sure to be at the heart of discussions at INBOUND 2023?
Community and connectivity,
Corporate culture,
New marketing approaches,
Future technologies,
Artificial intelligence and its impact on business,
Marketing content creation.
This year, a delegation of a dozen dedicated Globalia employees will be on hand at INBOUND 2023 with the mission of gathering all this information for you! (By the way, stay tuned for our blog posts on the subject, as well as news and inspiration to be shared on our social networks).
Renowned speakers
Our team is very much looking forward to attending and listening to these industry icons who, on the INBOUND 2023 main stage, will take turns sharing their experience, business philosophy and strategic vision. What tactics and approaches should be adopted to help companies evolve and impact the businesses of today and tomorrow? We'll have the chance to hear from some of the world's most respected and proven personalities, such as Reese Witherspoon, actress and founder of Hello Sunshine, who will reveal her strategies for stimulating growth and creating a culture of excellence and opportunity. This will be followed by a presentation by MLB Hall of Fame honoree Derek Jeter, who will talk about his experience as a leader, motivator and philanthropist. Andrew Huberman, neurologist, Steven Bartlett, entrepreneur and marketing expert, Sinead Bovell, I.A guru, just to name a few.
Must-see moments
INBOUND wouldn't be INBOUND without HubSpot founders Dharmesh Shah and Brian Halligan, and CEO Yamini Rangan. Their presentations will reveal what's new at HubSpot, how new HubSpot features are being developed to help businesses grow, and all the latest innovations that will be integrated into the platform in the coming months. Our Globalia team on the ground will be very excited to share all the news and behind-the-scenes information with you!

INBOUND 2023 will also feature over 150 other educational sessions presented by industry pros, who will share their expertise on best practices, handy tips and tricks, and marketing strategy secrets for successful email marketing, acquisition campaigns and other inbound methodologies. We look forward to sharing our discoveries with you!
INBOUND: an extraordinary experience

The Globalia team is very much looking forward to returning to Boston for another exceptional experience. We're all convinced that the 2023 edition will be just as enriching as last year, from a training, business relations and team spirit point of view. Read our article on our INBOUND 2022 experience.