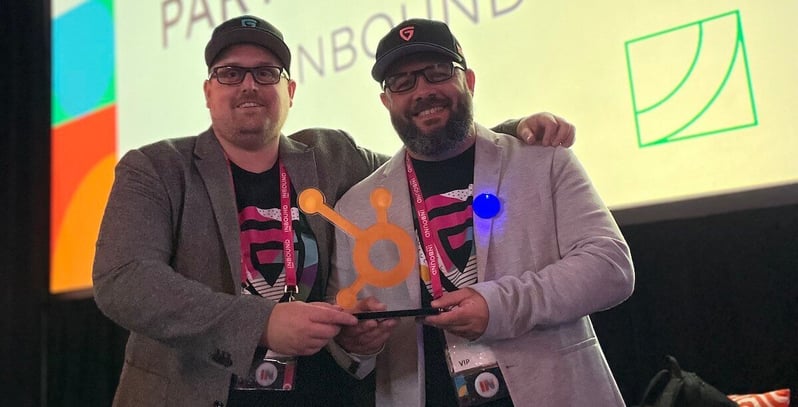 It was during the "Partner Day" event, an exclusive information day for HubSpot's key partners, held as part of the INBOUND 2023 conferences in Boston, that Evens Sheehy and Simon Ross, members of the Globalia team, received "HUG Leader Awards."
Evens and Simon: The "HUG Leaders" of the Greater Montreal Area
What is a "HUG Leader"?
Firstly, "HUG" stands for "HubSpot User Group," which is a gathering of HubSpot platform users. These groups exist worldwide and bring together users of the platform by region or interest so they can exchange, learn, and discuss their use of HubSpot. Evens Sheehy and Simon Ross are the official representatives of the Greater Montreal Area.
"HUG Leaders" are, therefore, the facilitators of their HubSpot community. They must be good ambassadors, enjoy sharing and learning about HubSpot, and be dedicated to the main mission, which is to help businesses grow.
What does a "HUG Leader" do?
With the title of "HUG Leader" comes several responsibilities and commitments. Among other things, the ambassador must organize at least one quarterly meeting for their community while maintaining a regular presence in the HubSpot community by providing solutions and support to users. The activities organized and the exchanges should be focused on educating and connecting current HubSpot users and customers, offering product-focused content to optimize their use of the software.

Simon and Evens embody the role of ambassadors perfectly: in addition to being excellent educators, they have HubSpot and the inbound methodology etched in their hearts!
Award for an Exceptional In-Person HubSpot Event
Award Presentation
This year, as part of its annual INBOUND event, HubSpot decided to present awards to some of its ambassadors to recognize their outstanding performance. Our two colleagues from Globalia received the prestigious "HUG Award for Exceptional Event (In-Person)" in recognition of the exceptional event that took place at Globalia's offices on June 7th.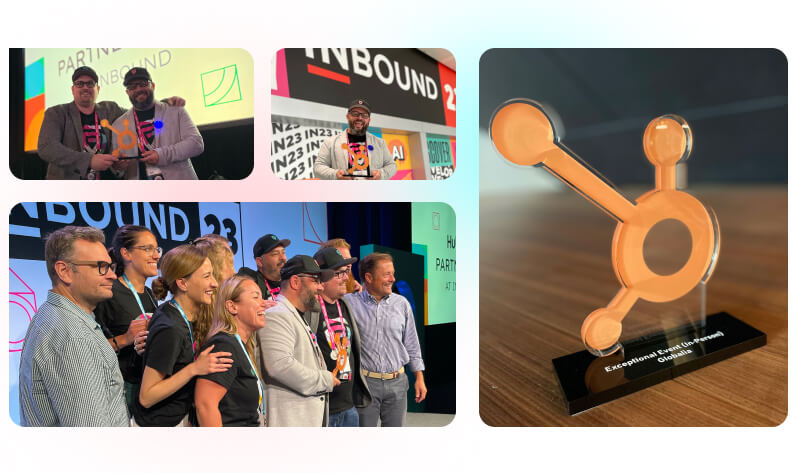 A Unifying Event on a Current Topic
In addition to bringing together HubSpot users from various companies in the Montreal area for networking, several presentations were on the agenda. Firstly, the latest HubSpot updates and improvements were presented by one of the evening's hosts, Simon Ross, while Evens Sheehy demonstrated the full extent of the HubSpot platform to newcomers. Afterwards, guests attended a conference led by two experts, Fred Fortin and Alex Bisaillon, regarding the role of artificial intelligence (AI) in content strategies. Finally, workshops on AI tools concluded the event, which was well-received by participants.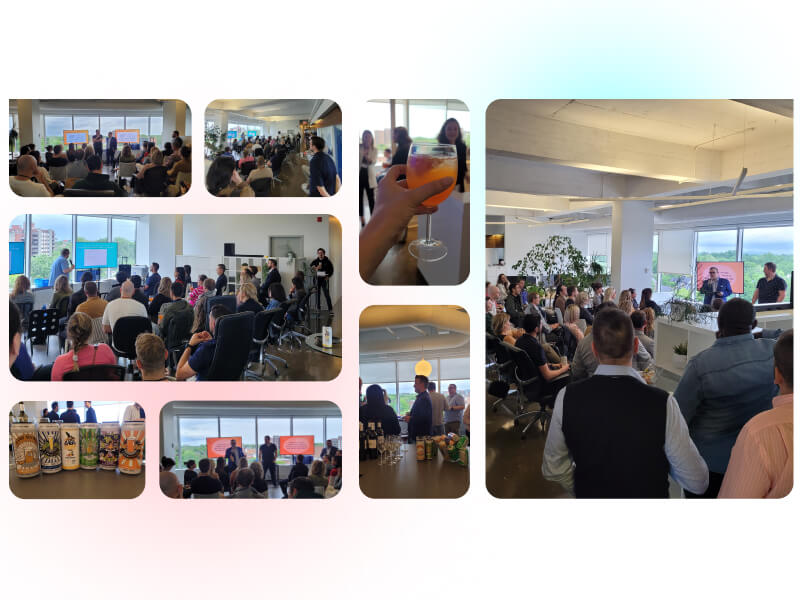 Two Ambassadors Proud and More Motivated Than Ever
It was with great pride that the two ambassadors accepted the "HUG Award for Exceptional Event (In-Person)" on September 6, 2023.

"We are so thrilled to receive this award! We love our role as 'HUG leaders' and put a lot of effort into serving HubSpot users in the Greater Montreal Area, but also from around the world! We are more motivated than ever to continue our mission to help businesses grow!" - Evens Sheehy, VP of Sales at Globalia and Co-Leader of the Montreal HubSpot User Group
Upcoming Montreal "HUG" Events
The next Montreal "HUG" event will take place virtually on September 26, 2023, with a mission to inform the community about the latest updates and trends from the INBOUND 2023 event, which runs from September 6 to 8, 2023. To participate, register on this page. Please note that the presentation will be given in French.
If you wish to get in touch with the two winners, they will be very happy to chat with you!

Contact Evens through this page or on LinkedIn.

Contact Simon through this page or on LinkedIn