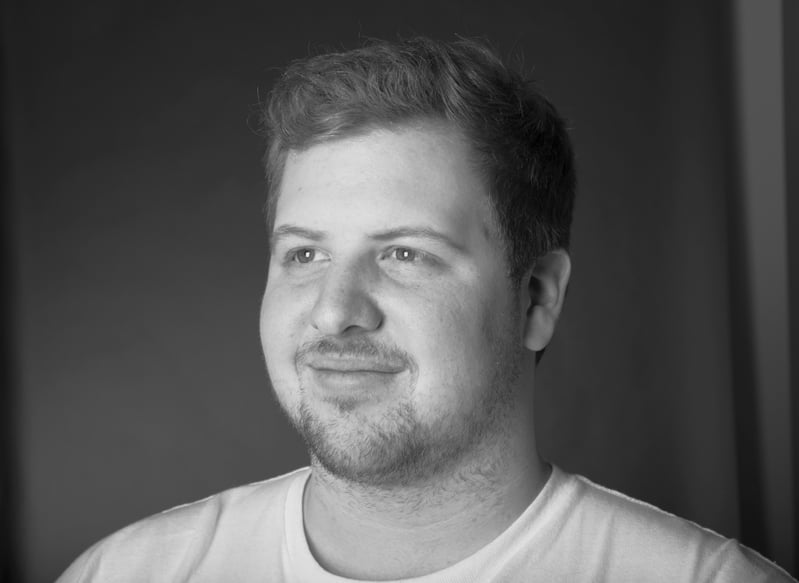 It is our pleasure to introduce you to Yannick; a young front-end developer at Globalia for 7 years and counting! He started an internship with us in 2015 and, right after, he got a job as a permanent front-end developer in the team. Sportsman and fan of competitive video games (having also played professionally!), Yannick puts his curiosity and energy to good use in his web projects. His analytical mind, his skills and his desire to innovate are recognized by the whole team. Find out more about him and his job as a front-end developer.
Profil
Name: Yannick
Current position: Front-end developer
Entry position: Intern
Years of experience: 7 years
Training: Multimédia Techniques at Cégep Édouard-Montpetit
Question: Where did you complete your training and in what program?
Answer: I did a DEC in Multimedia Techniques at Cégep Édouard-Montpetit in Longueuil.
What did you like about the program?
It allowed me to see and touch all aspects of the technology world, whether it be 3D programming, video games, etc. In short, my studies gave me the opportunity to explore as many professions as possible in order to determine the career I wanted. Initially, I thought I would go into design but, along the way, I decided to switch to front-end development.
What initially attracted you to Globalia?
I was already familiar with Globalia and had a fondness for the agency because I had relatives who worked there. There was plenty of choice at the time, but Globalia was right in line with my career aspirations. I had other options where I could intern, but I knew Globalia and I knew what type of job I wanted.
What did you like about your internship? What made you decide to take a job as a permanent front-end developer?
I had the chance to work on customer projects from the beginning. The company's approach allows for a real team dynamic which in turn leads to a lot of learning and professional development. The opportunity to learn and the support of the team were and still are the number one assets in my opinion.
How does Globalia contribute to your professional development?
I consider myself lucky to have a team that believes in me and offers me the privilege of working with many clients with different needs and projects. It's an opportunity to discover and try new technologies with the support of the team.

It certainly comes with its own set of challenges, but without this chance, I wouldn't be able to push myself and further challenge my skills. I wouldn't be the front-end developer I am today. Without it, I would probably be somewhere else.
What is the little extra that makes the difference in your daily life?
Today, I am proud to have accumulated years of achievements and success as a team!
I am fortunate to be part of the Globalia family for all that it brings me in terms of recognition and outstanding working conditions. I feel fortunate and rewarded for my efforts! At the end of the day, it makes a big difference.


The last 7 years have gone by very quickly. Yannick is a key player in the team and continues to expand his knowledge and explore on a daily basis. With colleagues like him and Nancy, we are well surrounded!
If, like Yannick, you want to be part of a team that recognizes your true value and you are by nature a curious person, discover the recruitment positions and join the Globalia team!