technology partners
HubSpot
A complete growth tool: CRM, marketing and sales automation, CMS and more. The best inbound marketing tool on the market.
Are you looking for a solution to drive your business growth? You've come to the right place! HubSpot proposes 5 main services:
CRM
Marketing automation
Sales automation
Services automation
CMS (for the development of your website)
Inbound isn't just a business model; it is a philosophy of the relationship between a business and their clients. In the words of Dharmesh Shah, cofounder of HubSpot: Inbound is attracting rather than interrupting, helping rather than harassing. It is an empathetic approach to business growth because, in the end, we are not only interacting with potential buyers, but with real people.
To put this revolutionary method into place, HubSpot proposes a set of cutting-edge tools, complementary to each other, and easy to integrate to your existing tools for a centralized and coherent experience.

Since 2019, Globalia has been one of the two first Canadian agencies to have obtained the title of Elite Solutions HubSpot Partner. Our team of HubSpot experts can support you in the implementation of the Inbound methodology, as well as the use of different HubSpot tools.
Globalia provides the largest HubSpot team in Canada to our clients. We are also the most highly certified agency in Canada in HubSpot Academy, and we have been commended by HubSpot (Impact Award) for our implementation strategy using their solutions.
Take a look at the HubSpot Flywheel to help you understand how HubSpot will help you to drive growth in your business.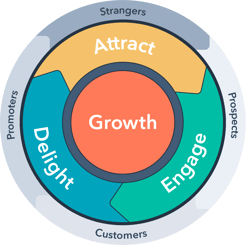 25 reasons to use HubSpot:
Considerable increase in your efficiency and productivity as you will centralize your marketing, sales, and services data and activities in one place.
The best platform to nurture your visitors into clients; nothing compares for making your target clientele evolve in your conversion funnel.
A Timeline view of your contacts, companies, and deals is a dream come true for understanding how your clients interact with you during their Buyers' Journeys.
Because you want the best performance dashboards and you will be able to track all your marketing, sales, and services operations.
Because the platform and methodology aim to eliminate frictions with your clients and within your teams.
It is very easy to connect HubSpot to your existing tools (or replace them).
A learning center (HubSpot Academy) to make you even more successful and efficient and help grow your business with HubSpot.
A platform to show the ROI of your sales, marketing, and services operations.
An enormous SEO improvement with the Topic Cluster approach.
The best tool to personalize your process, communications, and website according to your personas and their Buyers' Journeys.
An enormous improvement in properly identifying your website's visitors.
The possibility of personalizing the content of your website and communications according to your personas with Smart Content.
The possibility of Lead Scoring with your visitors and clients. This will provide you with the best information possible in order to use your retargeting budget intelligently.
With the document tracking tool, you have the best way of evaluating your clients' interest.
The connection of your email boxes (Gmail and Outlook 365) with HubSpot will allow you to have a history of your communications with each client.
The best tool to gain precision, time, efficiency, and productivity (workflows) by automating your marketing strategies.
The best tool to automate some of your sales teams' activities. It will allow your sales teams to concentrate on intelligent sales operations with your clients and have more time to search for new business opportunities.
Because no other system can adapt as well to the reality of your business, your personas, your clients' Buyers' Journeys, and your content strategy.
Because the software is very easy to use.
Because you can also manage all of your social media on HubSpot and improve your performance reports through the vast data increase possible with the platform.
Because you can even use it in the creation of your website, optimizing several of HubSpot's functionalities for even better performance.
Because the email solution is very efficient.
Because the platform connects well with a multitude of other platforms.
The ticket system is very responsive coupled with intelligent automations.
Because the Meetings tool could make scheduling meetings with your team very efficient.
11 reasons why you should implement HubSpot with Globalia:
The largest HubSpot implementation team in Canada; we implement all the HubSpot services (CRM, Marketing, Sales, services, CMS).
We are Elite Solutions HubSpot Partners, the highest level of partnership achieved by a Canadian agency.
The most highly certified agency in Canada in HubSpot Academy.
Winner of the award for HubSpot implementation strategy (Impact Award).
Organizers of several HubSpot events, namely HUG MTL (HubSpot User Group Montreal).
We offer free demos every month to all the companies who aren't using HubSpot yet and want to know more, as well as to all of those who are not using all the HubSpot services but who want to know more in order to optimize their use of the platform and drive their growth.
Because we work as well in English as in French.
Because we are very well connected within HubSpot and our clients profit from this relationship. We have access to an incomparable network of HubSpot resources.
We are connection experts; it is simple for us to connect HubSpot to your other systems. We even develop modules available in the HubSpot marketplace.
Our excellent trainers will be able to help you properly implement HubSpot into your business. We can even help you obtain funding for HubSpot training.
As well as being experts in the HubSpot ecosystem, it is fun and motivating to work with us at Globalia. Let us help you drive your business growth!
Drive your growth with our technology partners and solutions