As of this writing, we have already been hearing for several months about the raging labor shortage. This shortage, however, seems to spare some companies who make liars out of experts. Human resources (especially recruiting) are remarkably similar to marketing. The goals are different, but the methods have several similarities; rather than promoting products, it is about selling a job as well as the employer's brand
The Classic Method
First, let us take a quick look at the traditional method to better understand how HR marketing differs from it.
In the past (read here "now" for many businesses), methods akin to traditional advertising were used to attract candidates. We pay for posting space on general and specialized job sites, we post wherever possible, we contact all the people with the required skills on our LinkedIn network, we advertise on the radio and we try by all means to attract traffic to the career page of our website.
As is the case with advertising, the overabundance
of these ads creates candidate blindness or even frustration and negative branding for potential candidates who are overexposed and feel like you cannot hold back your employees. Think about your opinion of repeated ads… sometimes negative, right?
How then do we go about recruiting without these methods? The best companies use a methodology called Inbound HR. Much like its big brother, Inbound Marketing, it is simply about making yourself attractive to the right people rather than trying to fish with dynamite.
The Inbound method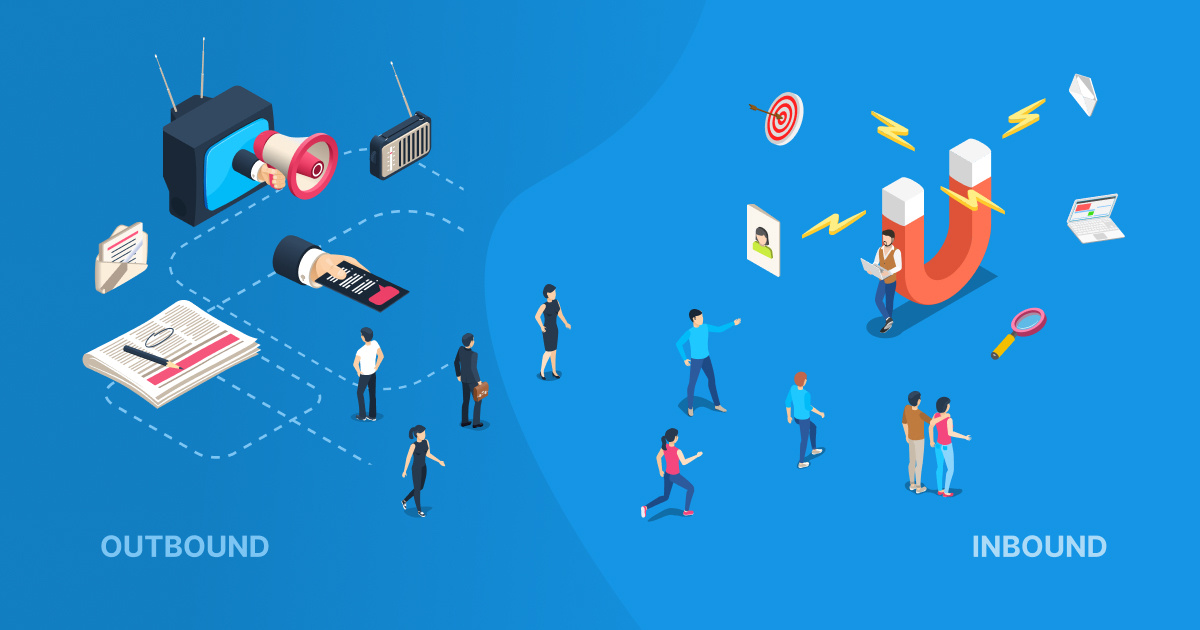 The goal is to attract a steady flow of qualified candidates, without having to resort to advertising, by building digital assets that will work on their own. Concretely, these assets can be a micro-site, a blog, an automation strategy, a ChatBot or anything of the same kind.
Inbound HR Relies on a Few Major Pillars to Be Able to Function:
The content

Automation

Multi-channel presence

A global vision of the process

A well-developed corporate culture
The major difference with inbound is that, rather than treating all prospects with the right skills as candidates and hoping that they are interested and looking for a job, you only target those who are open to opportunities. We can thus considerably reduce our costs and target much more precisely.
How to Get There?
1- Define your recruitment objectives.
How many? When? Set up your goals and strategy. If you are not a web marketing insider, do not hesitate to seek the support of a colleague in marketing. Ask him how he builds his strategies for acquiring and converting traffic and you can use the same principle to make sure you capture these potential candidates and maximize your candidate base.
2- Understand your Candidate's Persona
Ideal candidate profile: an individual who will develop and prosper within your corporate culture.
What traits do they share?
What makes it so interesting to collaborate with them?
Who would allow you to raise the level of your team?
To create your personas, talk to current employees whose profiles match the candidates you are looking to recruit. Ask these people:
What were their motivations for joining your business?
What aspects of their experience as candidates did they find remarkable?
Which were more negative?
What did their job search process look like?
What was their impression of your employer brand?
Is there any content they would like to have had during the recruiting process?
Where do they consume information?
3- Create Engaging and Useful Content (your assets)
Answer candidates' questions and tell a story that explains how your background is the best. Examples:
Employee profiles

Blog posts

Video content

Job descriptions

Photo content

Entries of recruitment sites
Keep in mind that 76% of applicants want to know what they will be doing with their day before they apply.
4- Use Social Media to Show Rather Than Tell
Job seekers frequently visit company MSs before applying. Designate ambassadors. Let your employees take control for a day. Do not be afraid to experiment.
5- Stay on the Radar of the Top Candidates
Yes, okay, but how? We all want to stay in the minds of the best candidates, but how do we do it? Well, if you are a fan of Inbound Marketing you already know the answer. NURTURING. You already do this with your leads ... it is the same process for your candidates. Remember to ask for their consent first, then send them relevant content. Invite them to your events to soak up your culture.
Digital Assets
We have covered the topic earlier, but if you need some inspiration for your digital assets, here are a few examples that I find excellent:
There are also landing pages, recruitment chatbots, newsletters (job alerts), employer pages on job boards and more.
Do not hesitate to start with what's easier and more interesting for you.
At the end of the process, it is time to request a CV. Not at the beginning! Just like in marketing and sales, we do not send the invoice to the prospect when he downloads a checklist ...
The Advantages of Inbound HR
You will be able to get rid of your ad addiction. The upfront cost will be higher to set up your strategy, but you can gradually withdraw your paid media spending afterwards as your strategy picks up speed. The math is pretty straightforward, it's similar to buying a house compared to living in an apartment. Your initial expense is higher, but the longer the period, the better the investment, unlike paying rent. Especially since the house is a valuable asset, just like your website when it is used to generate candidates!
With Inbound HR you will generate a constant flow of candidates, which will allow you to establish a strategy to qualify and recruit them. This will allow you to predict approximately how many candidates you will have each month and easily plan according to your needs.